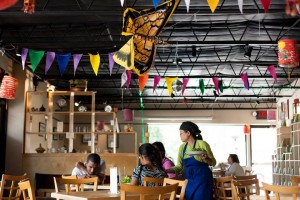 Thanks, Houston, for all the memories!!  Opened in March 2006, our store at 1927 Fairview closed on December 24, 2015. We loved the diverse group of customers we served.  Now, we have spread our love for tea around our city.  Support these local businesses that carry or use our teas.  They are great establishments with lots of passion:
Ivy and James –  in Bellaire, serves our teas by the cup.
A 2nd Cup – in the Heights, shop for our packaged teas, and iced teas from our blends.
Honey Art Cafe – in the Montrose area, we supply our teas for their boba drinks and desserts.
TEA + ART  – in the Heights, for our baked goods.
Nourish and Kalos – on Durham near I-10.
Araya Chocolate – in River Oaks, blends our teas into delicious chocolate bars, and serves our teas to drink.
On Instagram? Follow us at @tehouseoftea If you love Facebook, like us at www.facebook.com/tehouseoftea
Featuring
Fine teas from around the world
Organic teas
Fairly-Traded teas
Shop online for our teas: tehouseoftea.com/shop/
Contact
Email: info@tehouseoftea.com
Phone: 713.522.8868
Shop