---
Always Learning!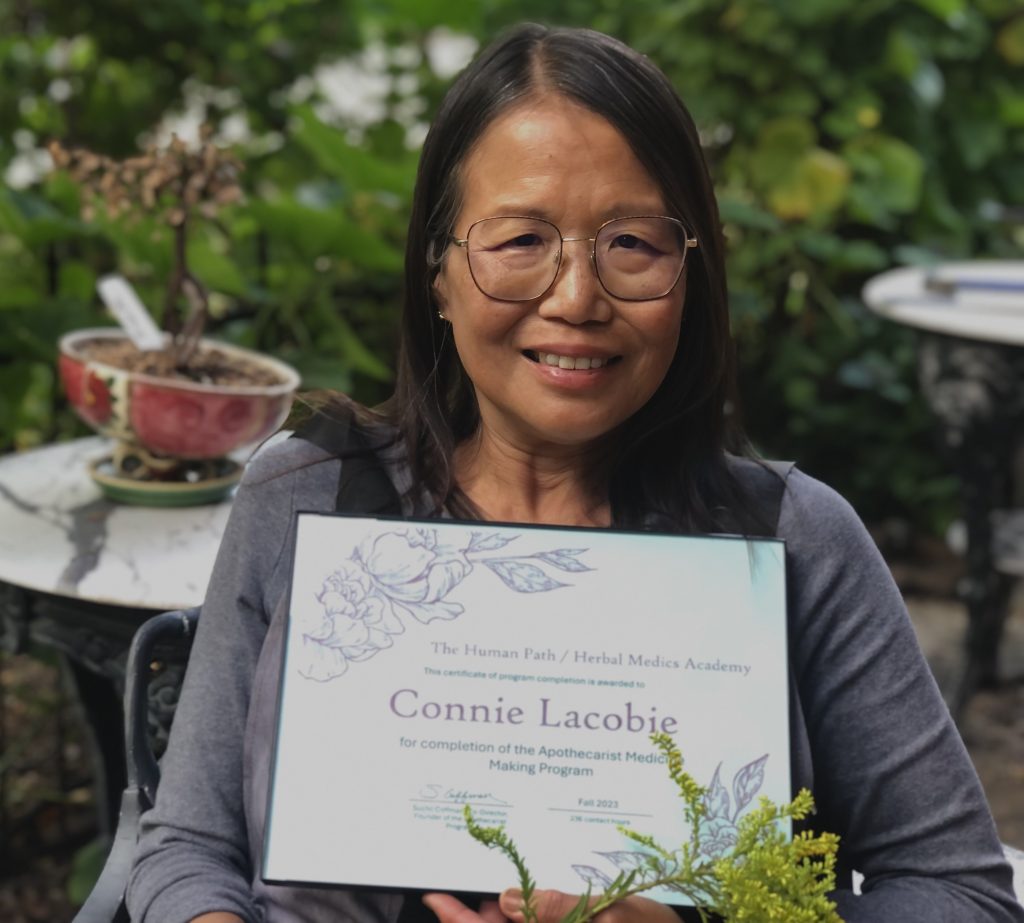 September 2023 news flash – Connie is now a certified herbal apothecarist. Many thanks to Human Path for providing the education that led to this certification – their courses were detailed, highly education, and fun! Connie learned a lot about herbs, and made many a potion in her kitchen, which often looked like a science lab!

Connie is now prepared to offer custom blending of herbs to address your needs. Email her at info@tehouseoftea.com for more information – she'll be happy to education about the different functions of herbs, and create a unique formula just for you!
Featuring …
Connie is featured in Voyage Houston, ShoutOut HTX, and Canvas Rebel. Read more of her story in these enlightening interviews:
voyagehouston.com/interview/check-out-connie-lacobies-story
shoutouthtx.com/meet-connie-lacobie-tea-lover-small-business-owner/
canvasrebel.com/meet-connie-lacobie/
---
Thanks, Houston, for all the memories!! Opened in March 2006, our store at 1927 Fairview closed on December 24, 2015. We loved the diverse group of customers we served. Now, we have spread our love for tea around our city. Support these local businesses that carry or use our teas. They are great establishments with lots of passion:
The Missing Piece – convenient place in Rice Village to buy our teas.
Station 8 Coffee in Downtown
March Restaurant – teas for this new upscale Montrose restaurant bar program.
Honey Art Cafe – in the Montrose area, we supply our teas for their boba drinks and desserts, as well as a collection of fandom teas!
Nourish and Kalos – on Durham near I-10.
Araya Chocolate – in Uptown Park, blends our teas into delicious chocolate desserts.
Nancy's Hustle – in Second Ward, teas for their bar program and iced teas.
Tiny Champions – sister company of Nancy's Hustle, also in Second Ward.
Plant It Forward – our teas are sometimes featured in their farm shares.
Eden Plant + Coffee – a cute plant-filled oasis with indoor and outdoor seating, to enjoy coffee and tea.
AfriHarvest – owned by local farmer Elizabeth Nyuma, Té has partnered with AfriHarvest to blend local produce with Connie's eye toward healthful and creative dried tisanes and tonics.
Markets Afar!
Recently, our teas have made it onto store shelves in places far outside Houston! We are excited for our new customers. Check out their stores if you happen to be nearby:
Featuring
Fine teas from around the world
Organic teas
Fairly-Traded teas
Gift Cards
Purchase a Té Gift Card to send to your family or friends, good for all products on our website.
Contact
Email: info@tehouseoftea.com
Phone: 713.522.8868
Are you on Instagram? Follow us at @tehouseoftea. If you love Facebook, like us at www.facebook.com/tehouseoftea